2005.10.07 10:41
Here's what it looks like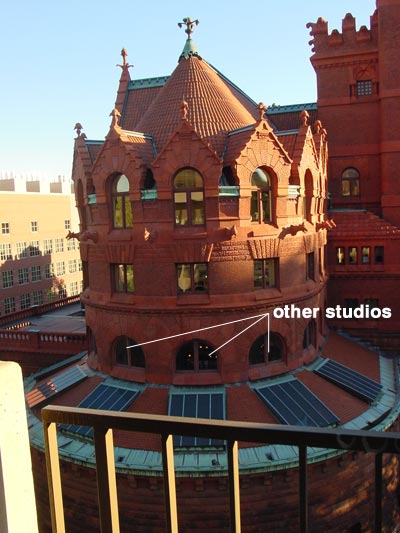 Twenty years ago, I was enjoying the same view of the Furness library; my office was room 320.


2005.10.10 09:30
Phenomenology
Inside the Density of G.B. Piranesi's Ichnographia Campi Martii
It's all about the co-joining of memory (i.e., mental reenactment) and architecture.
I wonder if Robbe-Grillet began Jealousy with a floor plan because that's how the ancient Roman art of mnemonics was taught? The Ichnographia Campi Martii is certainly Piranesi's greatest mnemonic floor plan.
Are people without good memories instinctually jealous of those that have good memories?
Does having a good memory also make for having a better phenomenology?
"Thou shalt not covet thy neighbor's goods."
2005.10.10 12:43
swarm theory in architecture
From the back cover of The Anaesthetics of Architecture (which really has nothing to do with "swarm theory, camouflage and escape behaviours" except superficially):
"In this culture of aesthetic consumption, this "culture of the cocktail," meaningful discourse gives way to strategies of seduction, and architectural design is reduced to the superficial play of empty, seductive forms."
Wow, that sounds a lot like what weave just wrote about Leach's recent talk on "swarm tactics."
The Anaesthetics of Architecture (especially chapter one: "Saturation of the Image") would be a whole lot more meaningful if the notion of reenactionary architecturism had been incorporated with Leach's other borrowed (mostly from Baudrillard) thinking.


2005.10.11 17:03
The most beautiful definition I've ever read...
Saint Pope Celestine V : Unfitted for the papal office in ever respect except for his holiness.
--The Pelguin Dictionary of Saints


2005.10.12 07:54
Phenomenology
Daniel Birnbaum, "The Hospitality of Presence: Problems of Otherness in Husserl's Phenomenology" in Peter Weibel, Olafur Eliasson: Surroundings Surrounded.
I read Birnbaum's essay last night and it appears that Husserl would have benefited from the realization that all memory (both his 'primary memory' and his 'secondary memory') are by default mental reenactments. That Husserl ultimately saw perception and primary memory (i.e., retention) as the same (i.e., simultaneously present and thus together constituting the nature of presence itself) then unwittingly suggests that perception is also a mental reenactment of the phenomenon being perceived.
My first philosophy teacher (in high school 1973-74) was big into Husserl. He occasionally went off on these tangents talking about his experiences at the Husserl center (or whatever it was called) somewhere in Germany (if memory/mental reenactment serves me correctly).
Otto King of Bavaria died eighty-nine years ago yesterday, so I wondered if anything coincidental or interesting might happen. I wasn't really expecting anything though because my mind was working 'elsewhere', yet it was the work on a new artwork regarding Marcel Duchamp that led me to recall that Otto's death date was yesterday--Duchamp died 2 October 1968. Finally, it was last night while watching E=mc2 on PBS that I then recalled Art that is Otto and Einstein at Princeton 5 March 2000. Some of my favorites.
In case you don't get it, Otto (the name itself even) supplies the symmetry, while Einstein supplies the relativity.
Edmund Husserl was born in Moravia. The odds of Ottopia, I suppose.


2005.10.12 08:01
The most beautiful definition I've ever read...
"So what then is architecture? Is it a hard, 'simple', 'natural' protective shell that engenders the continuation of life? Or is it a soft formlessness forever redesigning an applied shell it doesn't naturally have?"
--QBVS 1, p. 148.
2005.10.12 08:12
Crazy names
According to my notes, on 18 August 1996 I was still referring to the virtual museum of architecture I was then planning to 'create' as non ici [literally 'not there' in Latin], and by 2 October 1996 the virtual museum was being referred to as Quondam. What happen in-between these two dates was a phone conversation with Susan M. Dixon, a friend from our mutual architecture school days and now an Art Historian whose Ph.D. work was on Piranesi's archaeological publications. Sue and I had many conversations back then regarding a virtual museum of architecture and Piranesi's Campo Marzio. It was Sue that suggested the name "quondam" for the virtual museum of architecture. She had once heard reference to a Professor Quondam in Rome, and the name/word had since stuck in her mind. I liked the name immediately.


2005.10.12 08:57
Jimmy Venturi's new website...
After watching the video trailer and seeing Venturi's own take on his marital relationship, I'm not too worried if Bob and/or Denise read page 110 of QBVS 1, that is, if I ever get around to sending them an autographed copy. The package will be addressed to VSBA and the return address will be QBVS.
Maybe Jimmy will like the idea of filming his parents at Ryerss Museum because that place pre-enacts Venturi Shops. Or maybe film them at Stenton; every modern architect should know Stenton. You know, there's an uncanny similarity between the greenhouse at Stenton and the (obscure Venturi and Rauch) 1973 pool house design for the Liebs in Penn Valley. Some of the few words Venturi ever said to me are, "I love Stenton!"
Which reminds me, back in 1993 a close friend of mine was moving to New York to open a branch of VSBA. Bob and Denise came to the moving-away party. Soon after their arrival they were admiring the large (6.5' x 10.5') painting on the wall. Finally, Venturi asked aloud, "Is this by somebody?" To which I immediately replied from across the room, "Yeah. Me." So the question, so the answer. Go figure.


2005.10.12 09:19
Jimmy Venturi's new website...
Funny how A View from the Campidoglio is rarely, if ever, remembered. Taken literally (which happens to be the title of the painting that Venturi asked about), the view from the Campidoglio is indeed the Campo Marzio.
And when it comes to "still what they're selling" "we are all mirrors that have to see ourselves regardless."
The 8 August anniversary date of Venturi's first arrival at Rome got me thinking. I opened my 1977 Italian study tour journal and it begins:
"August 8, 1977
Fully packed for Rome. Luggage weighs 33 lbs.; I weigh 172 lbs. Leaving for New York with $107.00"
We arrived at Rome late 11 August.
Paul Rudolph died 8 August 1997.
Peter Eisenman was born 11 August 1932
Jackson Pollock died 11 August 1956
I was on a train from Florence to Rome that a young American couple told me that Elvis Presley had just died.


2005.10.12 11:36
Jimmy Venturi's new website...
Steven, you asked a very leading question that was very narrowly focused. I can't say that the writings of V&SB made me think differently about architecture (having first read Complexity and Contradiction in Architecture while a sophomore in high school 1971-72), rather they just made me think more about architecture. Did the writings of V&SB allow me to go in new directions for design? No, CAD allowed me to go in a new direction for design, and it was CAD that allowed me to redraw Piranesi's Ichnographia Campi Martii which ultimately lead to my thinking regarding St. Helena as architect and reenactionary architecturism. It was Kahn that first lead me to the Campo Marzio, however.
What new direction for design did V&SB allow you?
2005.10.12 15:24
Jimmy Venturi's new website...
Trust me, no matter what else they say, every brick really just wants to get laid, you know, just like Louis Kahn himself, who apparently used to frequent the now gone array of small xxx movie houses on Sansom Street, (or at least that's what another famous Philadelphia architect told someone who told me over a month ago while eating pizza).
I ask, what does homogeneous mythology want to be?


2005.10.13 14:40
Jimmy Venturi's new website...
To further flesh out the continuum, I was at MoMA in 1975 to see:
The Architecture of the École des beaux-arts
an exhibition presented at the Museum of Modern Art, New York, October 29, 1975-January 4, 1976
[funny time those seventies]


2005.10.14 14:11
Jimmy Venturi's new website...
I still remember what Brigitte Knowles (the blonde student you see in one of Kahn's classes in My Architect, and in 1978 one of my teachers and my employer) told me after returning from Rome and having there seen the Roma Interrotta exhibition: "Venturi's boards were terrible, really a disgrace. They just pasted some Las Vegas stuff on the Nolli map, and that was it. I think they are now finished."
I ain't 'fraid o' no ZeitGhost.


2005.10.15 13:06
Jimmy Venturi's new website...
What's wrong with this picture?