2005.08.26 13:09
Le Corbusier and Gordon Matta-Clark
27 August 1965 - death of Le Corbusier
27 August 1978 - death of Gordon Matta-Clark
Leaving Obscurity Behind
The Horace Trumbauer Architecture Fan Club Convention 2005
27 August 2005
Le Corbusier
"The Promenade Architecturale Formula"
27 August 2005
Gordon Matta-Clark
"Learning from Lacunae"


2005.08.26 13:56
game of the week: best critical images on the web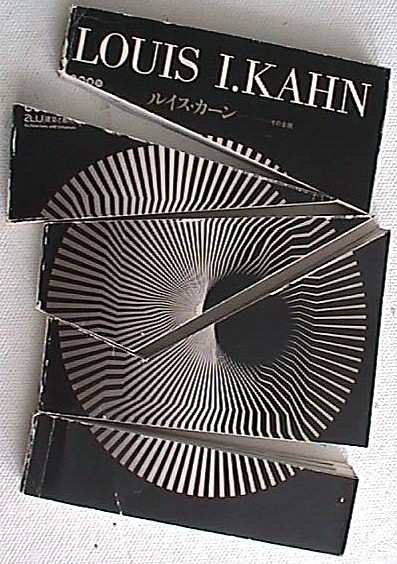 Stephen Lauf, I Can't Stand the Sight of Blood, sliced-up book, 1984, in A Quondam Banquet of Virtual Sachlichkeit: Part I, p. 107.
2005.08.26 18:17
Le Corbusier and Gordon Matta-Clark
And that's only the first two rows of the audience!
in response to:
others [who died 27 August]...
1521 - Josquin Des Prez, Flemish composer
1572 - Claude Goudimel, French composer
1577 - Titian, Italian artist
1590 - Pope Sixtus V
1635 - Félix Lope de Vega, Spanish poet and playwright
1664 - Francisco Zurbarán, Spanish painter
1875 - William Chapman Ralston, American banker
1909 - Emil Christian Hansen, Danish fermentation physiologist
1929 - Herman Potocnik Noordung, Slovenian rocket scientist
1931 - Frank Harris, Irish author and editor
1948 - Charles Evans Hughes, U.S. Supreme Court justice
1958 - Ernest Lawrence, American physicist, Nobel Prize laureate
1963 - Garrett Morgan, American inventor
1963 - W.E.B. DuBois, American civil rights activist and scholar
1964 - Gracie Allen, American actress and comedienne
1967 - Brian Epstein, English manager of The Beatles
1968 - Princess Marina, Duchess of Kent
1969 - Ivy Compton-Burnett, English novelist
1969 - Erika Mann, German writer and daughter of Thomas Mann
1971 - Bennett Cerf, American publisher and television personality
1975 - Haile Selassie I, Emperor of Ethiopia
1976 - Mukesh, Indian playback singer
1979 - Earl Mountbatten, British admiral and statesman
1980 - Douglas Kenney, American humorist
1988 - William Sargant, British psychiatrist
1990 - Stevie Ray Vaughan, American guitarist
1997 - Brandon Tartikoff, American television producer
2003 - Pierre Poujade, French politician
2004 - Willie Crawford, baseball player


2005.08.27 10:46
Le Corbusier and Gordon Matta-Clark
lacuna 1 : a blank space : GAP, HOLE : a missing part : DEFECT, FLAW


2005.08.27 14:41
Brutalism in A Clockwork Orange
Subject: (sixth of) Top 10 [designs of the 20th century]
Date: 1999.12.21
6. Stanley Kubrick's A Clockwork Orange.
20th century symmetry at its best.
--A Quondam Banquet of Virtual Sachlichkeit: Part I, p. 79.
I have seen the movie many times, first in 1974, but I've owned the soundtrack since it came out. Now I'm thankful that I can borrow the movie anytime from the local free library. Seriously, check out all the symmetry in it.


2005.08.28 13:49
Hi, Gorgeous. Haven't I Seen You Somewhere?
Diller is merely trying to position her/their work as something that others want to plagiarize, as if whatever D+S&R are presently doing is what everyone else wants to do. She's like reenacting a fairy tale.
2005.08.28 15:16
Hi, Gorgeous. Haven't I Seen You Somewhere?
Yes, I've heard the reenactionary-architecturism-sounds-too-much-like-predestination argument all before.
"reenactionary architecturism sounds like a lazy excuse not to experiment" is to me just another reenactment of an argument I've heard before.
It so far always turns out that reenactionary architecturism wasn't even understood well enough for the "just an excuse" call to be made in the first place.
Reenactionary architecturism is not a prescription, rather an understanding of how a lot of design works.


2005.08.29 18:22
Hi, Gorgeous. Haven't I Seen You Somewhere?
WOW! I just found the answer to everything discussed here. It's in a new book--Billions of Ways to Catch a Euphrates Cat by "The Tigress." It's tricky reading though because you have to be a step ahead of the next page, but there's comfort in that one good turn deserves another.


2005.08.29 18:50
Hi, Gorgeous. Haven't I Seen You Somewhere?
Yeah, Hamilton is a great (occasional) reenactor of Duchamp's work (personally, I prefer the reenacted Ocular Witnesses), and Duchamp turned out to be a great reenactor of his own work. Reenacting Duchamp is a very Duchamp thing to do.


2005.08.29 18:53
Hi, Gorgeous. Haven't I Seen You Somewhere?
There are old memories and there are new memories, but every memory by default is a reenactment.


2005.08.30 10:36
Hi, Gorgeous. Haven't I Seen You Somewhere?
Just to clarify, the readymades of Duchamp pictured in "Readymade Reenactment" are not actual "original" readymades, rather specially made reenactments of the "original" readymades that no longer exist.
I think it's interesting that most human teeth reenact themselves.
Since our minds reenact our perceptions, is that an indication that the operation of mental reenactment is somehow already coded in our DNA?


2005.08.31 13:10
Re: High Art Unbekannt
"Wow, I may have been the first to coin "institutional critique!" And here I thought menopause would be the highlight of my life."


2005.08.31 15:58
Re: High Art Unbekannt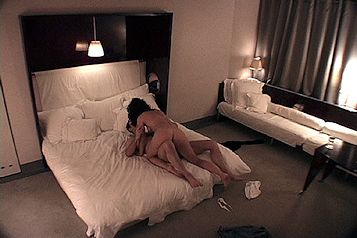 stoop. no, stoop further. stoop more. more.
Apparently there are no depths.
2005.09.08 10:54
are the origins common ? can we prove it ?
Do a thesis on the commonality of brainwashing within architectural education within say the last two to three decades. Brainwashing in the sense of becoming blind to what is otherwise self evident. For example, is the Villa Savoye really a house? Yes, it's design intention was for it to be a house, but that's not what it really turned out to be, is it?


2005.09.08 17:17
are the origins common ? can we prove it ?
...and none of that changes "what seems to be most common among creation/origin myths is indeed duality." And one of the twins of creation myths winds up killing his other.


2005.09.08 17:48
Hadrian was born in Spain
Hadrian had his tomb built because the tomb of Augustus had no spaces for an emperor.
Hadrian's Villa can also be seen as a "laboratory" of reenactment in that different parts of the villa are named for and perhaps even meant to evoke other places within the empire.
Check out the emperor Elagabalus as a latter-day Nero and then some. He had the Sessorian Palace built, which was a little Roman theme park in that besides the Palace there was also a circus and an amphitheater. What's left of the Sessorian Palace compound is at Santa Croce in Gerusalemme. A hundred or so years after Elagabalus, Helena took up residence at the Sessorian Palace.


2005.09.09 10:02
GENETIC CODE select young architect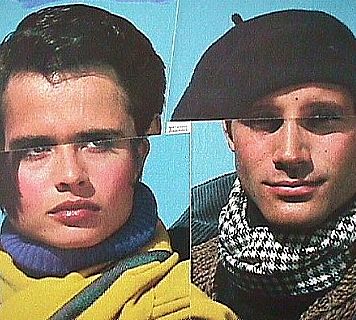 [detail of] Active Z Set To Display Depth 1985.04.11