2002.01.13
ideas
...putting the cracks in the Phila. model context; digitize the scared/profane sculpture group; do the axis via cad; Twombly would be great "interpreted" with cad as would etant donne and other Duchamp works in "3d" cad space.


2002.04.14
ideas
mp/being/nude--this is duchamp, pediment group, ignudis, crack reenactment prints, appose Ruff?, and who knows what else.


2002.06.25 13:18
Re: WTC Excavation Panorama
John wrote:
We were in the area yesterday looking for studio space with an intention to get in on the only NYC action that counts in avant-garde and putrid architecture, er, real estate.
Once we get set up with a view overlooking the sacred site, we'll be issuing a manifesto per week, tear-stained and lurid, so set your spam-eliminator on high alert.
Steve asks:
John, how long do you anticipate the whole 'exploitation' will take (seriously)? I imagine work at the WTC site will last several years. I'm also wondering how long it will take for the 'hole' to be filled and more or less covered (although there will still be much building activity underneath and above). It will be interesting to see how wider (ie, pieces in the press, etc.) 'perception' of the site changes as the site gets filled.
Kind of ironic that those visiting the site now often say there is nothing to see, when in fact they are seeing things that haven't been seen in years.
I'm reminded of a very nice aerial photo of lower Manhattan when the towers were almost complete that appeared in Life magazine (probably sometime 1970 or 71 or 72). I have the pages, but I used them within one of a series (a dozen I think) of artworks (1993) that 'reenacted' Duchamp's The Large Glass (The Bride Striped Bare By Her Bachelors, Even). In The Large Glass the lower section represents the male (sex appetite) while the upper section represents the female (sex appetite). In the one where I utilized the Life magazine WTC Towers photo, I placed it alongside an image of the (in)famous Space Shuttle toilet (that didn't always work properly)--these were in the lower section depicting erections and beyond. The top section has an actual but cloud-like female nude. Once the images were in place (acrylicly transferred onto mylar), then the 'cracks' of The Large Glass were pen plotted onto the mylar.
John, you use the word manifesto to describe the forthcoming 'exploitation.' Do you see this project as perhaps a 'reenactment' of Delirious New York? (Remember I do admire reenactment.)
A week or so ago R and I were talking a little about Delirious New York. We remembered how the original cover was an image of the Empire State Building in bed with the Chrysler Building. Last Saturday night I remembered a line from the poem "I Balls" (which is an integral part of Hey, Art Picasso, How's Your Brother Dick?) that reads: "If sex isn't something to talk about you can always think of the Empire State Building in the Holland Tunnel..." Upon (an almost 20 years later reflection) I think that line is very likely, albeit subconsciously, related to the cover of Delirious New York, and making that connection now is what prompted me to think of the Dick Manifestos.
Koolhass has over the last couple of years discussed manifestos, mostly in relation to Learning From Las Vegas. He concludes that architecture manifestos are no longer written, that it is all about urbanism now. I wonder if this is true.
manifesto 1 obscure : DEMONSTRATION, EVIDENCE 2 : a public declaration of intentions, motives, or views : a public statement of policy or opinion


2002.07.07 16:46
fashion tip of the iceberg
Yes, there's lots, lots more forthcoming.
www.quondam.com/ra
Reenactionary Architecturism published as a hypertext journal. Some (of possibly a dozen) issues free. RA1 already slated for inclusion of "Preenactments of 9/11"--a collection of all the Design-L emails posted on a September 11th. John Young wrote something very interesting about electromagnetism on a 9/11. Plus much more.
P4QAF takes (EPICENTRAL) precedence this summer.
www.quondam.com/sagacity
Sagacity published as a hypertext journal. All issues completely free. Sagacity 1: a special feature of the sagacity of John Young and Brian Carroll as manifested by letters to Design-L. Sagacity 2: a special feature of the sagacity of Rick McBride. (Among other things, Rick sent me several letters about Le Corbusier and pilotis that I really do want to share.) Sagacity is an ideal dream editiorship and publishership for me.
ottopia@hippocampus
redefinition:
museumpeace 1 : a rare slap-dashly hand-painted bentwood Gehry chair by Stephen Lauf 2 : a dot com 3 : the art museum of the architect of Quondam
Chronosomatics is going to be a hypertext journal.
"Have a bad summer."
If you want, go to http://memory.loc.gov /ammem/hhquery.html and search--owen calhoon--this is the first house I surveyed and drafted for HABS. The online HABS/HAER archive at the Library of Congress is surely of the best (if not the best) architectural collection freely available anywhere.
www.museumpeace.com/nudeneuternudist
It's a given Duchamp reenactment thing, oddly.
2002.07.10 17:08
Étant donnés' Back Door, etc.
Do you know Étant donnés' back door and that it takes "2 key" to open it?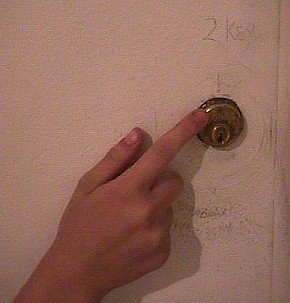 Étant donnés' back door plays an integral role within "Projects for Quaestio Abstrusa Fashions."
ps
Might not the window installed at the Philadelphia Museum of Art by request of Duchamp for the gallery of The Large Glass be considered a heretofore unacknowledged Duchamp work?


2002.07.15 15:10
Re: Étant donnés' Back Door, etc.
The "2 KEY" was already scratched into the door at the Philadelphia Museum of Art. I don't know anymore about why it is scratched there; I assume the doors needs "2 KEY" to open it. Anyway, I'm intrigued by the idea that "Étant donnés' back door" is a "museum piece" without anyone realizing it is a museum peice.


2002.07.15 21:38
Re: Étant donnés' Back Door, etc.
I am not familiar with Duchamp und die Anderen. Does Daniels write at all about the classical sculptural group within the (exterior) museum pediment above and on axis with the window to the Duchamp gallery at the Philadelphia Museum of Art? This sculptural group, a rare reenactment of classical antique polychromy, represents sacred and profane love via mythological characters. I've been wondering whether Duchamp knew of the symbolism of this group while he was arranging the interior disposition of the Arensberg collection, and specifically the room for the Duchamp collection, and hence the specially installed window.
In any case, I like to think of The Large Glass as a confirming furtherance of the sacred/profane love axis at the PMA. (I wonder where Yara is these days.)
2002.08.13 17:48
Duchamp and Reenactment
Looking through the 'arts & literature' sections of Tout Fait, it is clear that many Duchamp inspired artworks are indeed reenactments of one kind or another. It all fits though since even Duchamp reenated his work--the readymade redux, Boite edition, Green Box, etc.


2002.09.15 15:10
Re: yvonne and magdelene torn in tatters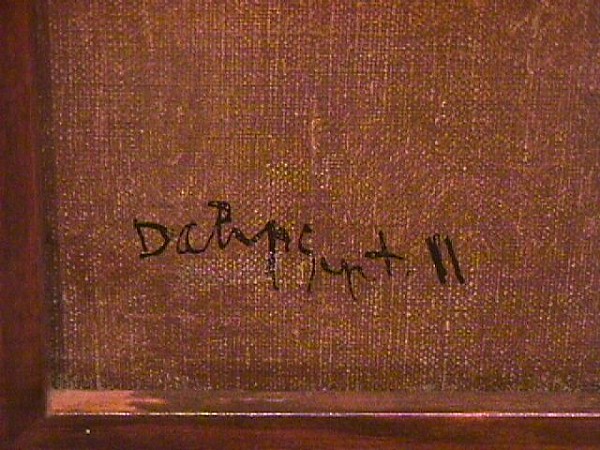 I looked at Yvonne and Magdeleine Torn in Tatters at the Philadelphia Museum of Art this afternoon, and took some digital snapshots of the painting as well. Later, at home, looking at a close-up image of the painting's signature, I notice it is signed "Duchamp Sept. 11". I found out the date means September 1911, but I still think the coincidence is interesting. Perhaps I'll start referring to the quondam World Trade Center towers as Yvonne and Magdeleine.
There is a special Richard Hamilton Museum Studies 6 exhibit within the PMA Duchamp gallery. I might upload some images of the exhibit at Museumpeace next month.
Someone has left additional graffiti on Étant donnés' back door--"BAOC Scoota Allegheny 2002". This graffiti was not there about a month ago.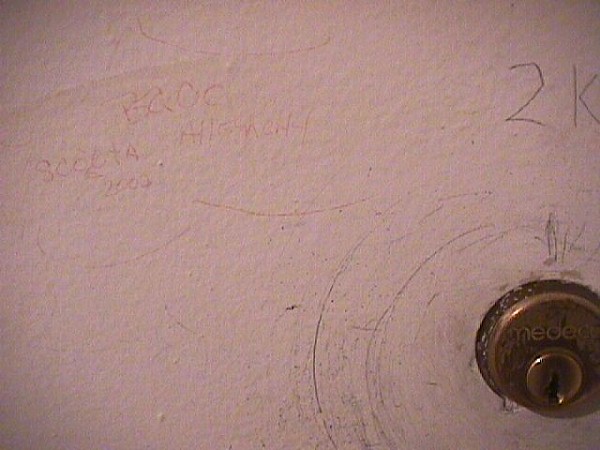 2002.09.25 07:15
Re: The Large Glass
I have over 40 digital images of The Large Glass (in full and in detail) in situ at the Philadelphia Museum of Art. The images were taken at various times since February 1999. Since all the contemporary art galleries of the PMA were renovated winter/spring 2000, I also have The Large Glass in two different immediate "contexts". There is even one fortuitous shot of two real "bachelors" standing behind and seen through the glass.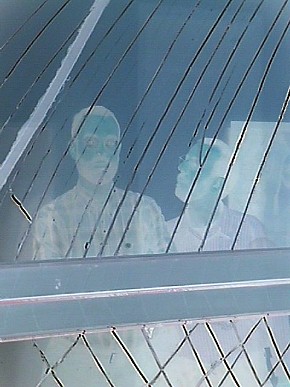 2002.10.08 16:34
Museum Trip 2001.03.25
Museum Trip 2001.03.25 entitles a display beginning at xxx.htm comprising a series of images recorded at the Philadelphia Museum of Art on 25 March 2001. These images, rendered here at approximately the size of side images on a light table, are ordered in the exact sequence that they were taken. More than half of the images depict an investigation of what other works of art at the Philadelphia Museum are axial with The Large Glass. For example, immediately adjacent the Duchamp gallery are galleries containing the works of Brancusi and Twombly respectively. Directly above the Duchamp gallery is a room by 18th century Scottish architect Robert Adam. In the museum's other wing across the courtyard is a fine collection of American glass, (a fitting symmetrical counterpoint to The Large Glass), a collection of Pennsylvania German artifacts, and on the floor above a selection of temples from the Orient.
Inspiration for this investigation derives from the very strong axial relationship between Duchamp's The Bride Stripped Bare By Her Bachelors, Even and Jennewein's Western Civilization as clearly manifest on the Philadelphia Museum of Art's northern courtyard facade, as well as the quondam axial relationship between The Large Glass and Martin's Yara. Museum Trip 2001.03.25 further considers the other axial, albeit by chance, occurrences at Philadelphia with regard to The Large Glass, and, as chance would have it, it was during the recording of the Brancusi gallery that the chance 'discovery' of Etant Donnés inscripted back door occurred.