2007.02.19 14:39
what is today's movement?
Client: "I would like you to design for me an architecture that cracks me up like Duchamp's Large Glass."
Architect: "Madam, you are in luck. That architecture does indeed come in the acropolitan style."
Client: "Wonderful. Now, can you add to that an architecture that hurts like the truth?"
Architect: "Well, I already know what the back door looks like, but, are you sure you can handle it?"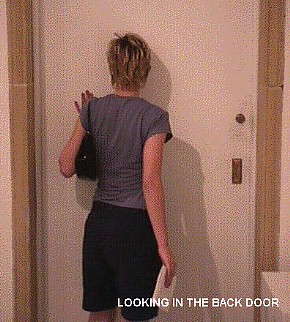 2007.07.10
project list
20. finish the Duchamp newspaper enlargement.


2007.07.30 10:02
Duchamp to direct THE LUCKY BUMS
As reported on Duchamp's birthday:
The project fits into a growing subgenre of historical re-enactment as performance art. It has yet to be fully recognized how much Duchamp utilized reenactment within his own art.
Reenactment Season -- 14 July to 29 September
beginning 2007.08.04
The Camp [oh!] Prometheus Interviews
1. Robert Adam and Walter Hopps interview Eutropia, Rubens, Duchamp and Jennewein
"It won't happen here though."
"Why's that?"
"I find virgin wolfs too tempting."
"'Phrase maker!'"
Cortona, wo bist du?


2007.07.30 10:43
Duchamp to direct THE LUCKY BUMS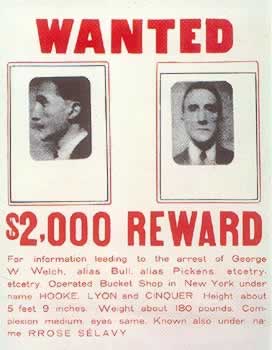 DEAD OR ALIVE
"Life is tedious, whereas death, well, I never had so much fun."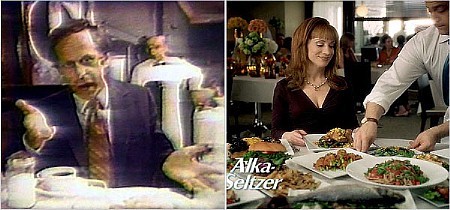 Try reenactment; you'll like it!
2007.09.30 11:53
Readymades in Architecture?
Facade study study study for the forthcoming Duchamp Inn hi-steaks hotel and casino at the quondam Calder Museum site across the Parkway from the forthcoming Barnes Foundation.
stamp of approval
as always, staged fright


2007.10.02 17:04
Readymades in Architecture?
2 October 1968
death of Marcel Duchamp
"I'm sure there's still some room in the readymade museum."
--2003.11.2003


2008.04.11 12:37
READING LIST
...and drink plenty of fluids.
Now 1/10 into de Duve's Kant After Duchamp. The passages I read last night reminded me of some passages within Tafuri's Theories and History of Architecture. I guess I like lists interspersed throughout prose. Likewise, just reading the index of Lefebvre's The Production of Space fascinates me.
Had hoped to gleam more from "Museum" within Privacy and Publicity, thus now planning to reread "The Portable Museum" within Demo's The Exiles of Marcel Duchamp.
"Ah, bear in mind this garden was enchanted!"


2008.12.11
project
a collection of Demos' use of 'reenactment'--Artforum, Duchamp in Exile.


2009.10.17 11:08
Duchamp to direct THE LUCKY BUMS
"The same "sense of loss" that supports history and mourning also supports the damnatio memoriae, which is both an enforced and denied nostalgia. There must be a sense that something has fallen out of representation, that it was at one time but it is no longer--a sense that something has been lost. If not, then memory truly fails and with it the force of the damnatio memoriae. The force of the rehabilitation has much more to do with the re-enactment of the death and condemnation of Flavian than with an account of the events of 394. The survivors have always remembered Flavian, but it is only after the rehabilitation that they can "satisfy the debt of duty owed the dead"--that is, acknowledge the irremediable fact of his loss, through the act of mourning. The writing of history, too, is motivated more by guilt and a desire to mourn than by a desire merely to evoke. The survivor is the one who remains to see that the proper rites are performed for the dead and for that part of the self which has perished, and in the end compulsively to rehearse that loss once again by writing the history" [re-accurately].
--CWH [SL]
The virgin wolfs, the Hirpini and the snails (spirialling), at the end of the axis of war.
So there was a connotation after all.
The Eutropia question.
"You do know the Sabine word for wolf, don't you?"
The Jennewein question.
"Is the axis of war the sacred axis or the profane axis?"
The Adam obsevation.
"Look, she dropped another hair pin."
The Duchamp question.
"Are reenactments virtual or real?"
The two Ps in Hopps.
link - mp/11/1017
2012.11.21 13:04
21 November 6601e


2012.12.13 16:09
13 December
Fourteen cows were busy grazing at the farm's highest elevation, right next to the fence. I noticed they had names on their numbered ear-tags--Daphne, Kikki, and Tootsie were close enough for me to read. And then, on the last leg of my walk down in the woods along the creek, about 50 yeard in front of me, a small herd of deer sprang up from the creek and started sprinting up the hill toward the farm. As I got closer, four of them stopped half way up and turned around and watched me as I walked by. I whistled at them, clapped at them, but they just stood there and watched me. I thought I saw more than four though, and then I saw two and then one more little ones timidly catching up with the bigger ones. White tails again.
If I recall correctly, the Schlittenfahrt bathroom was a reenactment of the Duchamp gallery at the Philadelphia Museum of Art. You know, a urinal, peep-holes, a bride stripped bare, broken glass even, all the things you want in a bathroom. Wolfhilde's doin' just fine. She's taking up yodeling in the nude as she descends staircases. And yes, she has now hired me to design several dozen staircases for her. Gott sei Dank!


2013.05.23 09:59
What are the cultural ingredients of architecture today?
Is FACTUM arte a possible proto-type of future architectural business? Like the architect could spec Duchamp Fountains for all the men's rooms to add some culture to the act of purgation.
Is the real value then in the 3D data file that tells the 3D printer what to do?
(Although I very much doubt I'll personally get to see it, nevertheless) Could someone that inherits all of Quondam's 2D and 3D file data someday in the future decide to 3D print it all out and thus make an actual Museum of Architecture?!?
note to self: rewrite my will to make sure I bequeath all of Quondam's data to an entity that has the money and operation to actually turn Quondam into a reality. I'm sure Disney could do it, but it would be funny to leave it all to China. Why am I leaning toward Dubai?
Next time someone asks me what I do, I'll tell them I'm very busy becoming posthumously famous.


2013.08.04 13:06
Art History
Marcel Duchamp has agreed to direct The Lucky Bums, a theatrical reenactment of Ford Madox Ford's The Good Soldier, starring Grace Princess of Monaco as Leonora Ashburnham, Rainier III Prince of Monaco as Edward Ashburnham, Flavia Maria Augusta as Florence Dowell, and Otto I King of Bavaria as John Dowell. The performance is scheduled for 4 August 2005 as part of Leaving Obscurity Behind, the 2005 Horace Trumbauer Architecture Fan Club Convention.
"It was exactly as if I had come out of a museum into a riotous fancy-dress ball."
[three sentences later...]
"I had, in fact, forgotten that there was such a thing as gossip that mattered. In that particular, Philadelphia was the most amazing place I have ever been in my life."
[76 pages before that...]
"The death of Mrs. Maidan occurred on the 4th of August 1904. And then nothing happened until the 4th of August 1913."
"To begin with, she was born on the 4th of August. Then on that date, in the year 1899, she set out with her uncle for the tour round the world in company with a young man called Jimmy."
"Then, on the 4th of August 1900, she yielded to an action that certainly coloured her whole life--as well as mine."
"On the 4th of August 1901, she married me, and set sail for Europe in a great gale of wind--the gale that affected her heart."
[and 62 pages before that...]
"Florence's aunts used to say that I must be the laziest man in Philadelphia."
...dense theatrics
theatrics times two...
Although most of the current discussion at architecthetics deals more or less with theorizing of how 'style' (might) come to be, generally how things/styles emerge, I nonetheless offer the following as an example of how (a) style ends, in this particular case the Baroque style.
The following is a passage I first read over 23 years ago. It comes from Timothy K. Kitao, Circle and Oval in the Square of St. Peter's: Bernini's Art of Planning (New York: New York University Press, 1974), pp.22-23.
"In the well know production of the Due Teatri, first given in 1637, Bernini developed a simulated amphitheater of a very elaborate kind. This is, of course, the best known of Bernini's theatrical works, but a recapitulation is in order.
According to Massimiliano Montecuculi, who witnessed the performance, the stage was prepared with "a flock of people partly real and partly feigned" so arranged that, when the curtain had fallen for the opening of the play, the audience saw on the stage another large audience who had come to see the comedy. Two braggarts, played by Bernini himself and his brother Luigi, then appeared on the stage, one facing the real audience and the other the fictitious; and recognizing each other in no time, they went on to claim, each in turn, that what the other saw as real was actually illusory, each firmly convinced that there was no more than one theater with its audience in that half he was facing. The confusions of realities in mirror image thus heightened, the two firmly decided "that they would pull the curtain across the scene and arrange a performance each for his own audience alone." Then the play was performed to the real audience, that is, the main act to which that preceded was only a pleasant prelude. But through the play another performance was supposed to be taking place simultaneously on the second stage introduced by Luigi; the play was, in fact, interrupted at times by the laughter from those on the other side, as if something very pleasant had been seen or heard.
At the end of the play, the two braggarts reappeared on the stage together to reaffirm the "reality" of the illusion. Having asked each other how they fared, the impresario of the fictitious performance answered nonchalantly that he had not really shown anything but the audience getting up to leave "with their carriages and horses accompanied by a great number of lights and torches." Then, drawing the curtain, he displayed the scene he had just said he had shown to his audience, thus rendering complete the incredible reversal of reality and illusion to the confused amazement of the real spectators, who were now finding themselves ready to leave and caught in the enchanting act of feigning the feigned spectators."
Here's my analysis:
Of course, the Baroque style continued beyond Bernini--I believe even the double porticos of St. Peter's Square were done after the above performance. All the same, Bernini's theatrical performance manifests the Baroque's consummate ending. Within his double theater Bernini capsulized the beginning of Western culture's new bifurcation of the real and the illusory, introduced mirroring as a henceforth dominant Baroque (stylistic) theme, and, at base (or should I say at the ultimate end), inverted reality into a reenactment of its own illusory mirror (--is this perhaps also the genesis of historiography?).
Essentially, beyond the Baroque (and still often in our own modern times) architecture at its best is very sophisticated theater, keeping in mind that theater is one of the earliest forms of (man made) reenactment.
Anonymous Saint in Bikini While Jesus is Walking on Water
from Hey Art Picasso How's Your Brother Dick?
Spears of Pergamon
from The Final Dick Manifesto
from End of Plot
No Doubt The Artist Suffered As Well