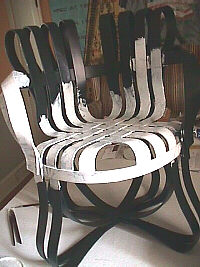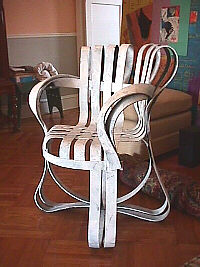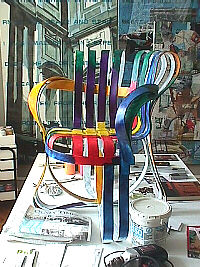 Stephen Lauf, MUSEUMPEACE (Philadelphia: acrylic on [Gehry] chair, 1999).
MUSEUMPEACE is one of several intentionally iconoclastic artworks created over the last 17 years, and this particular "piece" is retrospectively evocative of both Robert Rauschenberg and Jasper Johns.

"Rauschenberg was intrigued by his older friends, studying their techniques even as he mimicked their conversations. But he determined not to mimic their work. Making the point about his own independence in a particularly outrageous manner, Rauschenberg proposed that de Kooning give him one of his drawings, which Rauschenberg would then turn into his own work of art by erasing it. With some alarm, de Kooning agreed -- and chose a work that would be particularly hard to erase. After one month and forty erasers spent rubbing out the thick crayon, grease pencil, ink, and pencil markings, Rauschenberg produced Erased de Kooning Drawing (1953). He jokingly called the work a "monochrome no-image." As Rauschenberg explained many years later, "I was trying both to purge myself of my teaching and at the same time exercise the possibilities."
Mary Kynn Kotz, Rauschenberg, art and life (New York: Harry N. Abrams, 1990) p. 82.

[Unaware of Rauschenberg's erasure, I too, in 1984, "exercised the possibilities" when creating I can't stand the sight of blood.]

The execution of MUSEUMPEACE occurred during the Spring of 1999, culminating with a polychromatic "top" and a monochromatic (white) "underside". As complete, MUSEUMPEACE conjures up Jasper Johns' Painting with Two Balls, that is, a painting exhibiting "real balls."