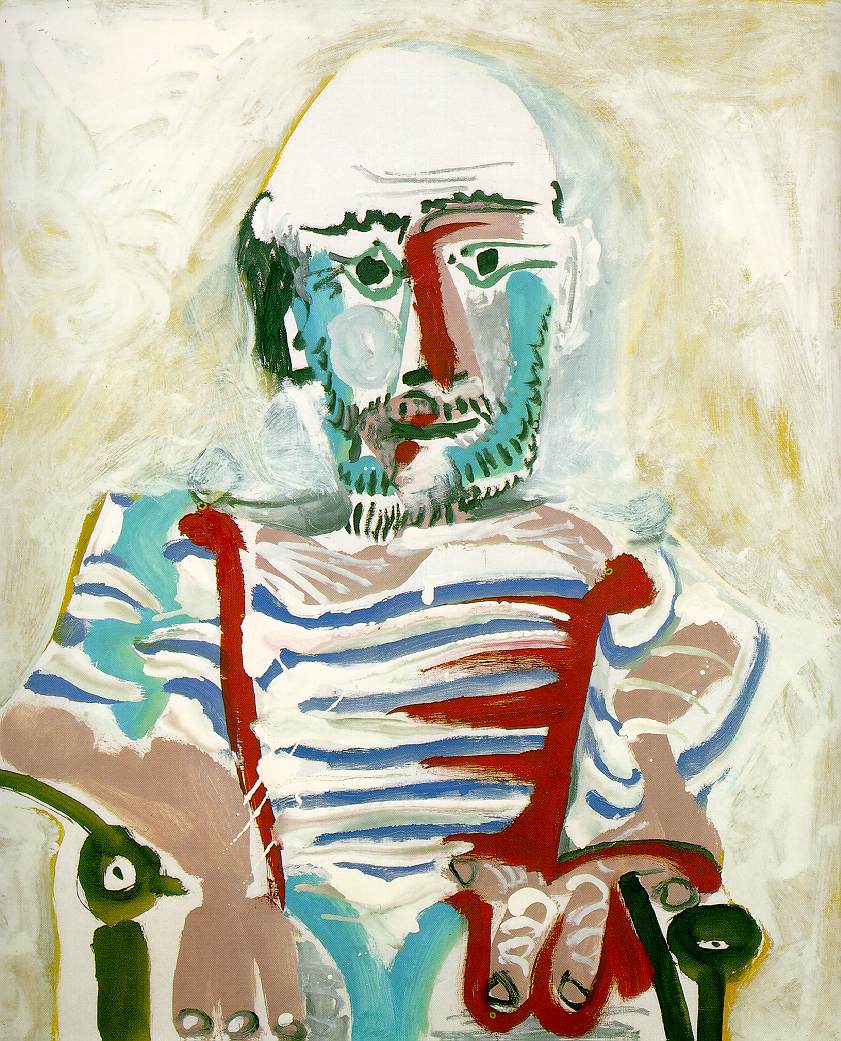 Pablo Picasso Seated Man 1965.04.04
2002.04.04 10:49
Re: [art] being/appositional [architecture]
In general, appositional here refers to the notion of:
applying (one thing) to another
and
deposition of successive layers upon those already present (as in cell walls)
Beyond that, the questions I raised here yesterday involve the notion that architecture (over the ages) has largely been apposed with other art forms or with other engineering forms. I thought it would be interesting to openly discuss what those 'other' yet directly near applications are or are not, and how the appositions change or don't change the 'original' layer. For that matter, identifying what the original layer is may also evoke interesting positives and negatives.
Of course, opposition to any of the above 'appositional' ideas is apposite as well.


2002.04.04 16:48
Re: [art] being/appositional [architecture]
Do you think there might also be such things (in design) as "difficult appositions"? If so, any "good" examples? And/or is coming to grips with "difficult appositions" something designers should be aware of or be willing and/or able to deal with?


2003.04.04 11:01
Re: The Last Taboo?
What the Taliban did was assimilation in the extreme, i.e., purge. Just like when our bodies assimilate in the extreme, i.e., purge.
Assimilation and metabolism are two distinct corporal physiologies. Assimilation is basically absorption of nutrients and the purge of that which is left after full absorption. Metabolism is a creative/destructive process (catabolism and anabolism) which releases energy. Metabolism is a basic tenant of life itself. Thus creative /destructive duality is a basic tenant of life itself.
In 1981, the Sammlung Architektonischer Entwurfe (a collection of 176 prints delineating architectural designs) by Karl Friedrich Schinkel was republished by Exedra Books to commemorate the 200th anniversary of Schinkel's birth. The box set of prints (edition of 1000) cost $500.00, and I bought number 476 (I think) October 1981. By 1984 Exedra Books went bankrupt and Baluster Books bought them out, which included a large quantity of sets of Schinkel prints that were never boxed or sold. Baluster, I luckily found out from a friend that collects architecture books, was selling the unboxed print sets for $100.00, so I bought a second set of prints. This was lucky for me because I could now replace the several prints from #476 that I had already mutilated—this was right around the time when I saw CAD (computer aided design) acting as iconoclast toward manual dexterity; I mutilated some Schinkel prints to 'illustrate' that computers were iconoclastically changing /revolutionizing manual dexterity. By the early 1990s I began to incorporate selected prints from the second set of Schinkel prints into the CAD process by ink plotting cad files onto them and then watercoloring the plotted portions of the prints—not at all different than what the Chapmans did with the Goya prints.
Here's what I thought then and now:
1. Yes, I knew what I was doing would be 'shocking', but I was also doing something that exhibited my own inner courage, which is what was most valuable to me.
2. Yes, the prints were 'valuable', and for me the prints were now really good/expensive art materials, like the very best oil paint and the very best canvas/linen or something, etc. etc.
3. I was then acting/arting out an iconoclasm that I saw came with the advent of computers within creative activities.
4. In the late 1990s I came to realize that metabolism is a creative/destructive duality, and that there is indeed a metabolic human imagination, and artistic activity can utilize the metabolic imagination.
5. In 2002, during an email discussion at design-l, I came to realize that I was sometimes doing art that was by nature appositional, i.e., creating art by adding another layer to existing art. [Remember I apposed Borofsky in 1984?]
Big Question:
Is anyone else opining within this thread actually speaking from first hand experience? I feel first hand experience is more valuable than any other type of experience. Maybe because no one else can then destroy a first hand experience already had.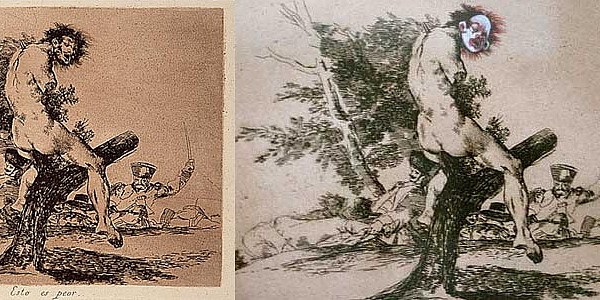 2003.04.04 13:31
Re: The Last Taboo?
What you inferred early on about the Chapmans' work being like grafitti from the past is uncannily insightful. An aspect of that specific work that perhaps you first saw—I'd like to hear more. What you say about the issue of viewer reaction is also completely worthwhile. I'm with you on this too.
What the Roman emperors did is part of the practice of damnatio memoriae, a particularly ancient Roman political practice, and thier also putting their own head upon what has been erased, manifests palimpsest. Damnatio memoriae plus palimpsest is a somewhat 'rare' set within damnatio memoriae in general. I see damnatio memoriae as again assimilation in the extreme.
I just temporarily 'hung' 12 metabolized Schinkel prints within The Curatorium.
"Destroying" art to "create" art. Is it really shocking to do something we viscerally do all the time just to live? I thought art was life now-a-days anyway.


2004.04.04 12:44
Re: Is Mainsteam the New Radical
When exactly is emotional growth in an artist's work apparent? what are the examples of this kind of perceptible thing?
So you're asking whether artist's emotions that perceptually grow are therapeutic?
Does the work come with a price tag? Is that what you're really asking?


2004.04.04 13:45
search: bilocation
I know that Catherine de Ricci had (reportedly) bilocated, and, like Padre Pio, that she was a sometimes stigmatic, but I don't think I ever knew before that Ambrose bilocated.


2004.04.04 17:04
Re: 1 more 1 is 2 yet .33
might not the obvious answer(s) lie (not in the middle, but) in two locations?


2004.04.04 19:24
Re: 1 more 1 is 2 yet .33
Two places for bilocation is a given. I'd sooner search for two places, and, if two places were found, then I'd begin wondering about multilocations.