93092301.db Timepiece Omnibus




Art damaged at Nazi-row exhibition
2004.09.23

CNN
Yelling loudly, the 35-year-old woman attacked "Office Baroque," a cutout section of wall by American artist Gordon Matta-Clark, doing a series of head-over-heels flips before landing on the work in a handstand, punching both her arms through the drywall, said Klaus Dieter Lehmann, president of Berlin's Prussian Cultural Heritage Foundation.

She then ran across the large room, pushing over a section of a spray-painted truck called "Graffiti Truck," also by Matta-Clark, bending back the metal roof.
thanks, I needed a title
2004.09.23 11:28

Prince of Traffic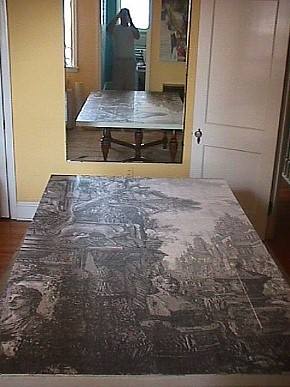 As far as I got last night. Still needs some touching up, then on to parts 2 and 3.
Re: "The Sun" had plagiarized my art
2004.09.23 09:08

Listen to me Sun
The Egyptians, they hailed you
Mercury, he mailed you
Wings on his feet
Talk about heat