2003.04.07 12:43
Yes, the unbearable lightness of hot air.
Anyone else looking for the biggest museum of hot air?
The up, up, and away museum?
Peace at last.


2003.04.07
The Uraustellung
1. The Schinkel prints displayed need to be scanned, but before that happens decide whether to do more watercolor work on (some of?) them. I might color pencil instead.
2. David (actually Balls and All) needs to be finished painted, and then hung properly.
4. ...the narrative will involve:
a. the first exhibit
b. "architectural background"
c. Hey Art...
d. 2 = odd
e. David and the circle/square - Canon of Polyclitus
f. Wacko Couple and the Wacko House bbb 5. Scan the square poems that are featured; they might make for interesting prints. Collect the poetry squared letters.
6. Because of "The Last Taboo?" many other issues are relavent, such as new dexterity, iconoclasm of computers in creative activities, the metabolic imagination/aesthetic; appositional art.
8. ...could include Rerun and What Since and Guess Who's Coming To Dinner.
2004.04.07 08:24
Re: bilocation -- opening odds of Ottopia
During the afternoon, Frederick, Franziska, Otto, Maria and the "Virginia Hams" go on a 'King of Prussia Marble' tour conducted by Trumbauer and Fiske Kimball (who 'discovered' the origin of the Rococo, and restored Monticello, among other things). Otto recalls how he began to feel really, really sick 18 January 1871, in the Hall of Mirrors at Versailles when Wilhelm I was proclaimed emperor of Germany--"Alas Ludwig! I cannot describe to you how unhappy and wretched I felt during the ceremony, how every fiber of my being revolted at what I saw! Everything was so cold, so brilliant, so ostentatious and showy, so empty and unfeeling. I felt so oppressed, so stale in that great hall!"
2005.04.07 10:35
The Pope's Funeral and Ichnographia Romaphilia
"The Pope's Funeral and Ichnographia Romaphilia"
John the Baptist [Piranesi], Julian Abele and James Stirling
8 April 2005
Coinciding with the culmination of the first great Triumphal Way Reenactment of the 21st Century.
"Don't forget to look through the archives."
"It's great how where the dead Pope celebrated Mass in Philadelphia marks exactly the spot where the bilocations intersect."
"You know, it didn't take Rainier two seconds to get here."
"Well, he really did miss Grace."
"And with the two of them going back to Ocean City again, the Jersey Shore's gonna be great this summer."
"How come he right away wanted to go with Grace to Memorial Hall."
"That's where he was last in Philadelphia, at John's Funeral, and it wasn't at all easy for him to be in Philadelphia without Grace back then."
"I heard he's already making up Pennsylvania gambling jokes."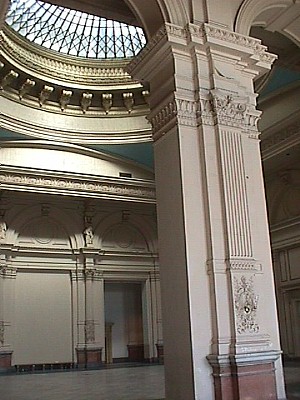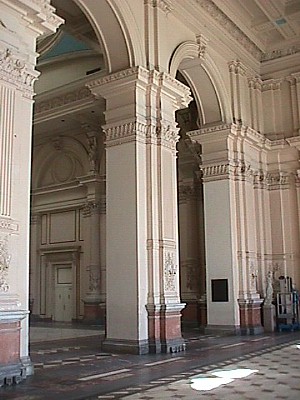 Memorial Hall