2005.04.29 15:15
Re: jerry schmaltz's burn on artforumdiary on artnet - Unbekannt
Cheap doesn't even begin to explain it, for example...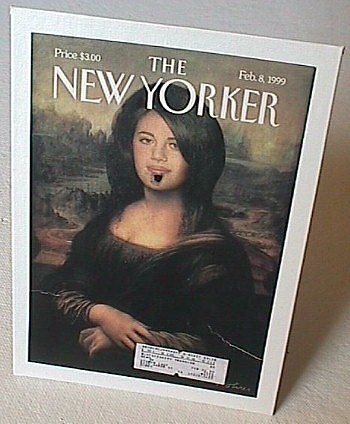 2005.04.29 16:02
Re: jerry schmaltz's burn on artforumdiary on arnet - Unbekannt
make that death and taxes du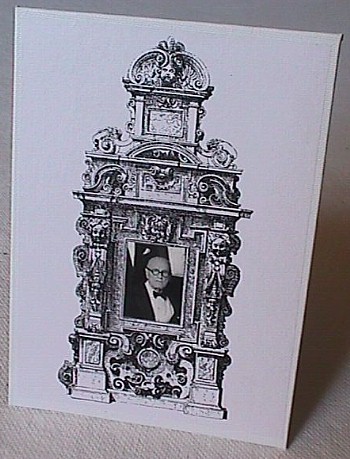 haven't read the Wigley "Passages" yet; the magazine just got here before lunch. did scan the whole new issue while sitting on the toilet though. keeps things moving alone.
2005.04.29 16:17
Re: time-capsule
I knew I wasn't going to be doing anything special to commemorate the 157th Birthday of Otto King of Bavaria on 27 April 2005. At least that's what I thought, until thinking further last night.
First thing in the morning of 27 April 2005, the final draft of the "Prologue" of The Odds of Ottopia (in more or less traditional novel form) was proofed. Then the writing of "January 2004" began:
January 2004
Isma'il Raji al-Faruqi, the last Palestinian Governor of Galilee, was born 1 January 1921. Ultimately, he and his family lived in what Otto now calls Trumbauer Palace Country, in the Cheltenham suburbs of Philadelphia. The quondam Curtis Estate is close by. Otto and Maria and Isma'il and Lois now often dine together. They like discussing strategies and music and strategies in music and even schizophrenic Belgium. Potluck, for some reason, is their favorite inside joke.
The great early 19th century English architect Edwin Lutyens died 1 January 1944. His was a very full career, and, like Trumbauer, he designed and built great homes, often palaces, albeit for the wealthy British. His creative talents were immense, even original, but when he visited the new Philadelphia Museum of Art 7 October 1929, he admitted some envy. You could say Philadelphia architect Robert Venturi is the biggest fan of Edwin Lutyens architecture.
On 1 January 1945, boxcars full of Danube-Schwabians departed Apatin, Yugoslavia heading for Soviet labor concentration camps near Bokovo, Ukraine. Franziska's former cook Rosa was among those in the boxcars, but the Baroness knew nothing of the expulsion as it was happening. As per usual, knowledge of such events occurs only after life, and, indeed, it was Alicia who told her mother of Rosa's sorrowful sojourn.
The Baroness had never heard such a thing before. "Who on Earth is out there singing? It's a pretty song, and even a pretty voice, but really, public singing in the middle of the afternoon? And in this neighborhood!" It's not that Rosa didn't care, it was just the tall pine trees and the whole atmosphere of the place. She couldn't help herself but sing. Her employers were out, so there was no danger of being caught by them, but she had no idea the Baroness living in the villa down the street was listening, if not in fact spellbound. Not long afterwards, Maria, the cook at the Villa von Ow, was getting married, and thus leaving. That's when the Baroness decided she wanted Rosa as her new cook, even to the point where Rosa's salary increased by fifty percent. That was mid-August 1942.
"...your film will be confiscated."
2004.04.20
In an effort to get fit, I've started to take morning bike rides leaving from my back door. I make my way up to Roosevelt Boulevard (US Rt. 1) where it crosses Tacony Creek (where Lenni-Lenapi Native Americans once camped) and then head east towards the site of the world's largest building implosion (excepting the World Trade Center), quondam site of Sears and Roebuck Northeast Distribution Center and now home to Home Depot, Wal-Mart, Staples, Pep Boys, Mattress Giant, Old Navy, etc., etc. I circle this complex once completely, and then head north a bit to circle the Naval Inventory Control Point (a big .US place). On Robbins Avenue, on the lawn in front of the naval depot's main office building, are three vintage fighter planes. I had forgotten these planes were there, but now I recall being always excited to see them as a young child. As I pass the main entrance gate to the depot, I think to stop and ask one of the guards if one is allowed to take pictures of the planes from outside the fence. The guard (in a very friendly manner) answered, "No, you're not allowed. If you are seen doing so by one of the security patrols your film will be confiscated." I then asked if this policy was put in place after 9-11, to which the guard replied, "No. I know the Russians have 1000s of pictures of them, but you're still not allowed to take pictures. It has always been a security breech." I then told him "I'm glad I asked," and rode off. I now head south towards the Roosevelt Boulevard again, just a block east of the implosion site. I again circle the shopping center and then head home.
[elapsed time: 45 minutes]
Much of this loop comprises long straight stretches, and the terrain is consistently very close to flat. Today, I was mostly thinking about Baroness Franziska von Ow. Earlier this year, my mother told me that, although the Baroness had her own car and, before the war, her own chauffeur, in 1942 the Baroness's car was in the garage, albeit without tires--the Baron's car was confiscated outright so he took the trolley to work as Dean of the agricultural machinery department of Munich's technical university. On many days, the Baroness left the villa on her bike and apparently rode into town, or, as my mother says, "Who knows where she went."
In 1950, after returning from the U.S.S.R. (now Ukraine) and finding herself again living in Bavaria, my mother stopped by the Baron's villa, but alas the house was occupied by U.S. military. Franziska's eldest son recently confirmed this by stating, "The U.S. military were quite long in the house." These days, the villa is rented out, although owned by Franziska's eldest daughter, who lives on the old family farm in Württemberg. (In the mid-1700s, Michael Mußigmann [Michael Musicmann 1696.08.12-1759.10.31], one of my great-great-great-great-great-great-great grandfathers on my mother's side, was mayor of Vollmaringen, a town in Württemberg.) The Baron's family and household staff (i.e., my mother the cook and Madelene the upstairs maid) spent Christmas Eve 1942 in the Chinese Room. My mother played checkers on the floor with the children, but the Baron always made sure the children won. Born actress that she is, my mother simply feigned surprise and laughed aloud at her 'defeats'. The Chinese Room has since returned to Schloss Piesing.
...and then the day went weird--long and fruitless web searching, long and fruitless Paley Library searching. Well, not really all fruitless because I did find Historische Stätten VI: Baden-Württemberg (Historic Cities VI: Baden-Württemberg, a 1965 book first borrowed here by me) with a fair amount of von Ow listings in the index. I'm still not exactly sure, but I think my mother worked for the head of the main line of von Ow descendants (and maybe that's why the present (top?) Baron von Ow keeps on mentioning that his son isn't married yet). And last night I wondered if any other descendants of "Der Burgermeister von Vollmaringen" worked for the von Ows. No, my mother wasn't the only one (although the group is not large), however, her time and place of having done so stands out.
Oh, I hate to mention this, but yesterday I and Otto's schizophrenic other were in the same room again. I really do hate it, but I still have to remain the one that ultimately controls that situation.