speaking of the devil... [a reenactment]
1999.12.21 13:54

John wrote and wondered:
I'll look into the fried dates Brian discovered. However soothseer s-lauf probably has a more devilish numerical explanation.

Creepy picture of mephistophelean Donald Trump with Muschamp's (swan?) song to himself today in the NY Times. Warhol seduced Muschamp into coming to NYC from Penn. Did you know that Steve? Do you care? Now that the world as we wished it was is near the end of time.

Steve responds:
Since I live in a [Philadelphia] zip code that The new York Timeswon't home deliver to (even though they occassionally call me and ask for my subscription), whatever Muschamp writes (so far) is of little consequence to me. Moreover, its many, many years since I've been spoon fed.

If I read any newspaper, it's really only occassionally The Olney Times, and, to my surprise, my local neighborhood weekly newspaper sometimes actually delivers 'news' that even Muschamp can't beat in terms of "beyond architecture". Here's a front page item from last Thursday's OLney Times:

'Altars' and icons found in the park

During another in a series of regular clean-ups at Tacony Creek Park, volunteers from the Friends of Tacony Creek Park [of which lauf-s is a high standing member; they wanted me to be their president, but my sporadic (literally schizophrenic) schedule made me decline] discovered what could be described as a makeshift "altar" adorned with icons and small statutes, where a worship service may have taken place. These items were found at several locations inside the park, they said.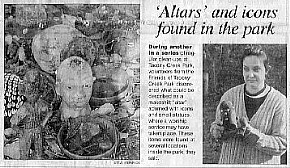 Now, I have to confess that I had nothing to do with these 'reenactionary' worship sites, and thus be aware that metabolic does not automatically mean diabolic (but I may find room for becoming diametabolic, and I might even design an altar to that effect -- ha!).

be it ever so humble... (you can guess the rest)

lauf-s