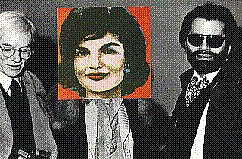 Warhol Kennedy Lagerfeld
2003.10.03 10:10
Spectacular Silence
I live in a very quiet place, and I love it--although it was hardy quiet this past summer with basketball being played at least 18 hours a day almost right in front of my house. Hurricane Isabel knocked down the basket, and the teacher's strike ended, so it's real quite (during most of the day) again. The basketball playing wasn't all bad, except at seven in the morning and 3 o'clock at night, and I prefer hearing my new next door neighbor who's blind and plays the horn.
Quiet's cool because it actually lets you hear noise from far away, albeit quietly. Whenever I hear the freight train that's a half mile away, that means it's about to rain. Lunchtime out front offers the happy cacophony of many children in a school yard, reverberating from on top of the other side of the valley. Hearing the constant flow of the Roosevelt Boulevard (US Rt. 1, twelve lanes of traffic also on top of the other side of the valley) at night when the windows are open really puts you to sleep.
Quiet's spectacular precisely because of the things it lets you hear otherwise.
2003.10.03 11:51
Re: paper
Here are questions I would ask:
In what ways has Modernism become a tradition? And in what ways hasn't Modernism become a tradition?


2003.10.03 15:42
art imitates [what a] life
During the summer of 1979, I worked in Savannah, Georgia for H.A.B.S, the Historic American Building Survey. As part of a team of hired architecture students, I measured and drew the plans of many homes within Savannah's Victorian District, which was then a somewhat decrepit neighborhood of Victorian homes, rentals populated by mostly poor African-Americans. After our survey (which most times meant going through occupied residences), the homes were to be renovated (with Federal money; remember Carter was then President), but the population was not to be displaced, rather moved into another renovated home (that is until the Federal subsidies were no longer available).
One of the last houses on my to do list was a twin with four living units. Permission to get into all but one upstairs unit was easy; a wife was always home in this last unit, but the husband would only allow us (me and another student) in if he was there to. Finally, one day after he got home from work, we were let in. I didn't really like the looks the husband and wife were giving us, but you kind of got used to that after spending a summer walking through every inch of other's people's habitats. We started in the back of the unit and worked forward, and then we got a shock when we entered the living room, where he was sitting on the floor while she picked dirt out of his hair; the Flintstones was on TV. On the floor around the entire perimeter of the room were pretty nasty porn magazines laid neatly side by side; around the perimeter of the room is exactly where we had to go to take measurements. Job accomplished, albeit on tip toe. The next room, in front of the stair hall (what used to be called the trunk room because that's where Victorians kept their trunks) was full of a rather extensive collection of rifles. I took one look and said to my partner, "The rest of this place has exactly the same measurements as the unit next door."
"Bye. We're done now. We'll let ourselves out."
2005.10.03 11:53
Re: Jean-Pierre Gauthier
Did anyone do anything special yesterday the 37th anniversary of Marcel Duchamp's death? You think anyone will bid on the sheet of Duchamp news clippings souvenir from the 1973 Duchamp exhibition that will be up for auction at eBay soon? And how about Rimanelli in "Hate Speech" "Coming upon a quondam friend or colleague..."
I reread all of The Painted Word in the wee hours of 1 October 2005. Does Duchamp rest in peace flat on his back?