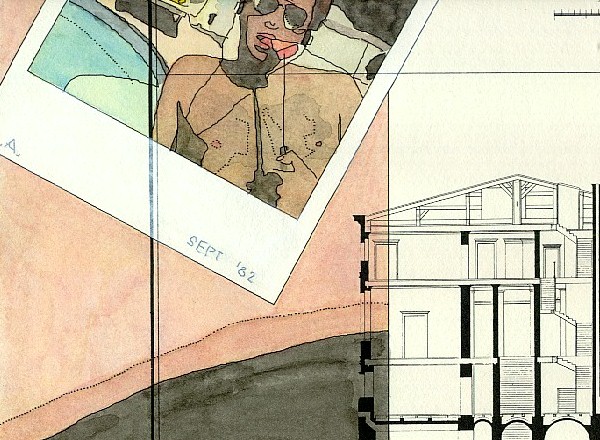 Exhibit One Apposing Schinkel (detail)
2005.04.16 12:38
Duchamp to direct THE LUCKY BUMS
Marcel Duchamp has agreed to direct The Lucky Bums, a theatrical reenactment of Ford Madox Ford's The Good Soldier, starring Grace Princess of Monaco as Leonora Ashburnham, Rainier III Prince of Monaco as Edward Ashburnham, Flavia Maria Augusta as Florence Dowell, and Otto I King of Bavaria as John Dowell. The performance is scheduled for 4 August 2005 as part of Leaving Obscurity Behind, the 2005 Horace Trumbauer Architecture Fan Club Convention.
"It was exactly as if I had come out of a museum into a riotous fancy-dress ball."
[three sentences later...]
"I had, in fact, forgotten that there was such a thing as gossip that mattered. In that particular, Philadelphia was the most amazing place I have ever been in my life."
[76 pages before that...]
"The death of Mrs. Maidan occurred on the 4th of August 1904. And then nothing happened until the 4th of August 1913."
"To begin with, she was born on the 4th of August. Then on that date, in the year 1899, she set out with her uncle for the tour round the world in company with a young man called Jimmy."
"Then, on the 4th of August 1900, she yielded to an action that certainly coloured her whole life--as well as mine."
"On the 4th of August 1901, she married me, and set sail for Europe in a great gale of wind--the gale that affected her heart."
[and 62 pages before that...]
"Florence's aunts used to say that I must be the laziest man in Philadelphia."